Hier findet der Lichtplaner alles, was eine zeitgemäße Beleuchtung am Arbeitsplatz ausmacht: blendfreies Licht mit hoher Lichtausbeute dank eigens entwickelter Reflektortechnik. SLICE gibt es bei Bedarf mit umfeldlichtabhängiger Steuerung und Anwesenheitssensorik sowie DALI-Schnittstelle für intelligentes Lichtmanagement. Im Licht dieser schlanken Schönheiten können Sie Ihr Brot verdienen oder genau so gut zu Hause eine Scheibe davon abschneiden.
Das jüngste Mitglied der SLICE Familie ist die große Pendelleuchte. Mit einer Länge von 1,50 m und extrem guter Lichtausbeute eignet sie sich für große Konferenztische oder zur schwebenden Allgemeinbeleuchtung auch mittelgroßer Räume.
Mit dem Möbel Anbau-Adapter zum Klemmen bleiben Sie vollkommen flexibel, was den Einsatz dieser überaus effektiven Leuchte angeht – überall dort, wo Sie genau hinschauen wollen oder müssen.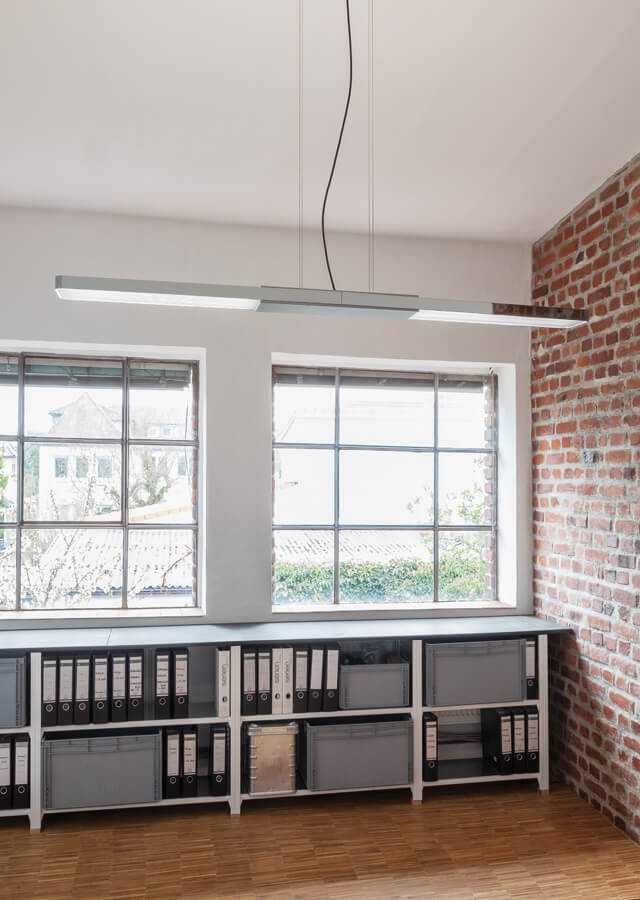 A SLICE of your life
New – Slice
Suspension and Slice Clamp
This is where the lighting planner can find anything relevant for contemporary lighting at the workplace: glare-free light with a high luminance efficacy based on a reflector technology specifically developed for this purpose. Upon request, SLICE can also be provided with ambient-light-dependent controls and presence sensors, as well as a DALI interface to allow for intelligent light management. In the light of these slim beauties you can earn your bread at work – or cut off a slice of it for your home.
The youngest member of the SLICE family is the large pendant light. With a length of 1,50 m and an extremely high luminance efficacy, it is well-suited for large conference tables or as a pending general light for mid-sized rooms.
With the furniture mounting adaptor used for clamming, you are totally flexible on how to use this highly effective lighting – anywhere, where you want or need to look very closely.